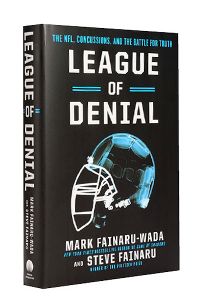 Welcome to SportsNation! On Wednesday, best-selling authors and award-winning journalists -- and brothers -- Mark Fainaru-Wada and Steve Fainaru stop by to chat about their book "League of Denial: The NFL, Concussions and the Battle for Truth" that hits stores Oct. 8.
Mark, @markfwespn, and Steve, @SteveFainaru, both now investigative journalists at ESPN, reveal in "League" how the NFL over nearly 20 years sought to cover up and deny mounting evidence of the connection between football and brain damage.
Mark and Steve combine for more than 50 years of reporting experience. Among their numerous career highlights is Mark helping break the BALCO steroids case and Steve spending years as The Washington Post's war correspondent.
Send your questions now and join the brothers Wednesday at 1 p.m. ET!
More special guests: Previous chats | SportsNation