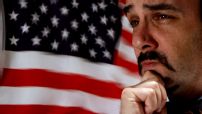 America. Mustaches. They go together like ... America and mustaches.
Welcome to SportsNation! On Friday, Dr. Aaron Perlut of the American Mustache Institute will stop by to chat about mustache season, which is far more important to the American people than football season.
As you may recall, Dr. Perlut is the global expert on the impact of facial hair on sports excellence, garnering 2008's SN chat of the year. More importantly, Friday closes voting for AMI's "Robert Goulet Memorial Mustached American of the Year" honor, and two sports stars are nominated -- Mike Brown (Edmonton Oilers) and Class-A Hagerstown Suns' Bryan Harper (brother of Bryce Harper).
Plus, as a sneak preview -- only for ESPN.com readers -- Dr. Perlut is advancing the survey of facial hair in the workplace (presented by Wahl Trimmers) so that the Mustached American community can better understand the deep discrimination that AMI believes exists across America.
Send your questions now and join Dr. Perlut Friday at noon ET!
More Special Guests: Previous chats | SportsNation