It remains to be seen if the recent surprising trade of running back Trent Richardson from the Browns to the Colts, a deal most experts agree was beneficial to both sides, will result in similar deals across the league. But it sure is fun to think about it. ESPN.com writer Greg Garber has come up with five hypothetical trades involving superstars who currently find themselves in sticky situations, either of their own doing or as a result of the uninspired play of their respective teams. Would you sign off on the deals?
---
Adrian Peterson
Vikings RB Adrian Peterson is not on pace to hit the 2,500-yard rushing mark he predicted before the season. He would need 169 yards per game the rest of the way to do it. Then again, he did average 159.8 yards per game down the stretch last season.

---
Maurice Jones-Drew
Perhaps the only person in Jacksonville more frustrated than Jaguars fans is Jaguars RB Maurice-Jones Drew. He says that isn't true, but how can he not be with just 103 carries (13th in the league) and only 316 yards to show for it?

---
Larry Fitzgerald
Cardinals WR Larry Fitzgerald was recently named the most-liked player in the NFL in a fan survey. Even Seahawks CB Richard Sherman has said Fitzgerald is too nice to be the target of Sherman's usual trash talk. Do nice guys really finish last?

---
Von Miller and Ronnie Hillman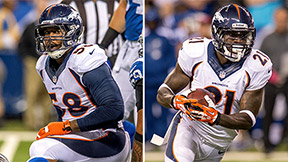 LB Von Miller made his return Sunday after serving a six-game suspension and registered just two tackles in the Broncos first loss of the season. Denver RB Ronnie Hillman had an equally forgettable game, making a key fumble in the final minutes.

---
Tony Gonzalez
Falcons TE Tony Gonzalez has said that he won't "jump ship" and that he is still "happy as I can be to be a Falcon." But it sure would be nice to see the nicest guy in the league not named Larry Fitzgerald get one more shot at a Super Bowl.