Dez Bryant said his blowups on the Cowboys sidelines during their 31-30 loss at Detroit were all a product of his passion for winning -- and that's not going to change. The teammates he was shouting at, quarterback Tony Romo and Jason Witten, didn't blast Bryant after the game for his antics, and neither did Cowboys owner Jerry Jones. But perception is reality, and fans and observers saw Bryant yelling at teammates and coaches. Maybe Bryant needs to consider the counsel of legendary Cowboys receivers Drew Pearson and Michael Irvin, who both said he needs to keep his emotions in check.
---
Positive or negative?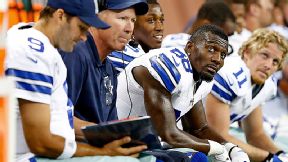 Dez Bryant's teammates don't question his passion for the game, but the TV cameras only saw him yelling at teammates and coaches.

---
Eye of the beholder
There's little dispute over Dez Bryant's talent. But there's more debate the headaches he's caused the Cowboys during his four seasons in Dallas.

---
Throw it my way
Dez Bryant is averaging 9.6 targets per game this season, but had only six balls thrown his way in the Cowboys' loss Sunday.