Patrick Ewing finally got his chance to be a head coach in the NBA -- albeit as an interim head coach. Ewing, in his 11th season as an assistant coach, and first with the Bobcats, took the helm for Steve Clifford as he recovers from a heart procedure. Unfortunately the Ewing-led Bobcats suffered a 101-91 loss to the struggling Knicks. Was Ewing's debut a sign of what's to come if he's ever hired as a head coach?
---
As a future head coach ...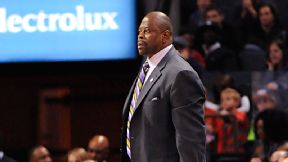 Ewing served as an assistant coach with the Wizards, Rockets and Magic before joining the Bobcats' coaching staff, but has yet to obtain a head coaching position.