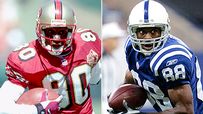 Do you know NFL wide receivers?
As the 2008 NFL Draft approaches and the rookies hit the field, it's time to talk about the best who ever played the game.
For the past couple of weeks, we have talked about the new kids on the block and what they might do once they enter the league. Now we'd like to test your knowledge about the past and present NFL wide receivers. From the longest touchdown catch to having the most receiving yards in a postseason game, it's all here for you.
So how well do you know NFL wide receivers? Test your skills!