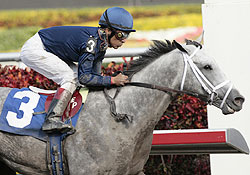 Dunkirk is ready to run in the Kentucky Derby, but which other horses make up the field?
At just about two minutes -- give or take a second or two -- the Kentucky Derby is considerably shorter than the average pop song. But are the horses in this year's field more recognizable than album titles?
With the possible exception of Gwyneth Paltrow and Chris Martin, there may not be two sets of more creative namers than horse owners and musicians.
Your task is simple, SportsNation. Below you'll find 20 names. Half will be lining up to race Saturday in Kentucky and half are worth listening to once the race is finished.
Can you tell horse from album?