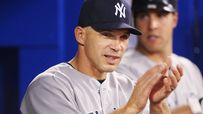 How much do you know about each postseason team?
The ALCS and NLCS are about to start, with the Angels, Dodgers, Phillies and Yankees battlking it out for a spot in the World Series. You may know a lot about each playoff team, having followed them for a full 162 games, but how much do you know about their respective playoff histories? Are you truly familiar with the famous and infamous moments of every postseason run? Sure, you've got the stats of your favorite slugger permanently imprinted on your brain, but do you know how well your team's coaches performed in the postseason when they were players?
Test your knowledge with our postseason quiz!