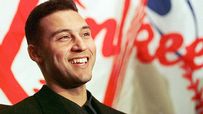 Think you know the Captain?
To celebrate Derek Jeter's 36th birthday on Saturday, we've racked our brains to come up with the most obscure facts and figures about the Yankees' future Hall of Famer.
We'll start off easy, then get progressively more difficult, moving from his basic bio to the positively obscure.
See if you can ace our test without using up any lifelines.
-- Matt Marrone and ESPNNewYork.com staff