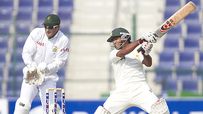 It's time for the U.S. to catch Cricket World Cup fever!
Who's up for some cricket? Yeah sure, pitchers and catchers may be trotting onto baseball diamonds as spring training gets underway, but baseball's strange European cousin is preparing for something much bigger: the start of the 2011 Cricket World Cup.
Unfortunately, the United States failed to qualify for this year's tournament, but that doesn't mean you have to miss out on all the fun. Below you'll find a 10-question cricket quiz compiled by Page 2's Amar Shah. So step your game up and see if you can handle this wicked googly of a quiz.
Amar Shah is a writer and producer living in Los Angeles. He's currently developing a romantic comedy screenplay set in the world of cricket. He can be reached at shahespn@gmail.com