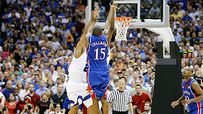 Where does Mario Chalmers' shot rank among the all-time greats?
Mario Chalmers' last-second 3-point shot to send the 2008 championship game into overtime has become an instant classic. Where does it rank among the best shots in history?
Chalmers' shot was difficult, but does it measure up to Christian Laettner's Kentucky buzzer-beater? What about the shot that started Michael Jordan's legend, a game winner versus Georgetown in 1982? They're all great, but which is the greatest? Cast your vote now!
You must submit at least FIVE for your rankings to count.