Rank 'Em: NFL Power Rankings
Created: December 15, 2008, 5:46 PM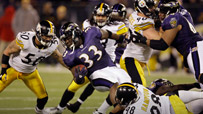 Where do the Steelers rank after beating the Ravens?
A number of big games during the regular season's penultimate week should help sort out playoff seeding. But until the Giants battle the Panthers and the Titans tangle with the Steelers, we're asking you to settle the score, SportsNation. Which team is No. 1 in the NFL? Looking back at Week 15, the Giants lost for the second week in a row, while the Titans dropped a game for just the second time this season. Are the Panthers poised to pick up the crown as the league's best team? Sorting out the NFL isn't easy. Are you up to the challenge? Which teams do you consider the best of the bunch, SportsNation? Submit your rankings below! You must submit at least
FIVE
for your rankings to count.
Rank 'Em: NFL Power Rankings

Loading...

&nbsp

YOUR RANKINGS

1.
2.
3.
4.
5.
6.
7.
8.
9.
10.
11.
12.
13.
14.
15.
16.
17.
18.
19.
20.
21.
22.
23.
24.
25.
26.
27.
28.
29.
30.
31.
32.