Rank 'Em: NFL Power Rankings
Created: December 22, 2008, 5:22 PM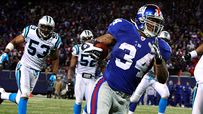 Where do the Giants rank after beating the Panthers?
With one week to play in the regular season, we know which teams will enjoy home-field advantage in both the AFC and NFC. But how much do we really know about the race for Miami and the Super Bowl? The Titans stomped all over the Steelers to wrap up hosting honors in the AFC, but where do the surging Colts fit in the mix? And the Giants wrapped up the top seed in the NFC by beating the Panthers, but do they face a potential playoff challenge from top-five challengers in those same Panthers and the red-hot Falcons? Sorting out the NFL isn't easy. Are you up to the challenge? Which teams do you consider the best of the bunch, SportsNation? Submit your rankings below! You must submit at least
FIVE
for your rankings to count.
Rank 'Em: NFL Power Rankings

Loading...

&nbsp

YOUR RANKINGS

1.
2.
3.
4.
5.
6.
7.
8.
9.
10.
11.
12.
13.
14.
15.
16.
17.
18.
19.
20.
21.
22.
23.
24.
25.
26.
27.
28.
29.
30.
31.
32.