Rank 'Em: Most important BCS players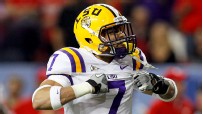 Is Tyrann Mathieu the BCS title game's most important player?
Who are the most important players in the BCS Championship Game?
There will be plenty of talent on the field when LSU and Alabama meet in the BCS title game on Monday. But who is the one player who will make the biggest difference in the game?
Will Heisman finalist Tyrann Mathieu get your No. 1 vote? Or will that belong to another Heisman runner-up, Trent Richardson? And just how important will the place-kickers be in this game?
DIRECTIONS: To rank, click on each candidate's image. You most select at least FIVE candidates to submit your ballot.


Most important BCS players

Drew Alleman


Mark Barron

Mark Barron
Alabama Safety

Morris Claiborne

Morris Claiborne
LSU Cornerback

Dont'a Hightower

Dont'a Hightower
Alabama Linebacker

Jordan Jefferson

Jordan Jefferson
LSU Quarterback

Jeremy Shelley & Cade Foster

Jeremy Shelley & Cade Foster
Alabama Kickers

Jarrett Lee

Jarrett Lee
LSU Quarterback

Tyrann Mathieu

Tyrann Mathieu
LSU Cornerback/Punt Returner

Marquis Maze

Marquis Maze
Alabama Wide Receiver

A.J. McCarron


Sam Montgomery

Sam Montgomery
LSU Defensive End

Rueben Randle

Rueben Randle
LSU Wide Receiver

Trent Richardson

Trent Richardson
Alabama Running Back

Courtney Upshaw

Courtney Upshaw
Alabama Linebacker

Brad Wing

Your Rankings
1.

2.

3.

4.

5.

6.

7.

8.

9.

10.

11.

12.

13.

14.

15.