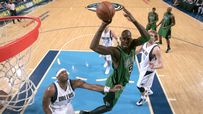 Where do the Celtics rank?
The All-Star game has come and gone, and it's time to look at where each team stands in the grand scheme of the NBA's playoff picture.
Out East, the Celtics and Cavaliers are in the best shape, with Boston leading all of basketball with 44 total wins. The Magic are not far behind, though the quality of talent drops off sharply after those top three. The Atlanta Hawks have shown some sparks, but for the most part, the East is a three-team race.
In the West, things are more balanced. The Lakers are clearly the class of the conference, but a number of thirty-plus win teams--the Nuggets, Blazers, Spurs, Rockets, Hornets, Mavericks, and Jazz--will offer stiff competition come playoff time.
Which team is the best in basketball? Submit your rankings now!

Rank 'Em: NBA Power Rankings

Loading...

&nbsp

YOUR RANKINGS

1.
2.
3.
4.
5.
6.
7.
8.
9.
10.
11.
12.
13.
14.
15.
16.
17.
18.
19.
20.
21.
22.
23.
24.
25.
26.
27.
28.
29.
30.