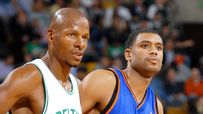 The Knicks paid how much for Allan Houston?
We've learned that sports executives were hardly alone in throwing money at questionable investment opportunities, but that hardly makes any of these financial gems from the NBA look any better.
How do you size up this list of the worst deals, SportsNation?
For sheer volume, Juwan Howard's nine-figure deal with the Bullets-turned-Wizards shoots up the charts. But at least Howard put up a few numbers. How can the Knicks explain away all the money they paid Larry Brown not to coach?
Check out the details below and rank the worst of the worst. No bailouts allowed.
Need more? Rank the worst contracts in baseball!
Rank 'Em: Worst NBA Contracts

Loading...

&nbsp