Rank 'Em: NBA Playoff Teams
Created: April 15, 2009, 6:16 PM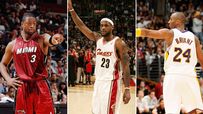 Seeds are one thing, SportsNation's rankings are another!
The NBA playoffs are here and we're asking SportsNation to rank all 16 teams preparing to make a title push.
Will the Lakers and Cavaliers live up to expectations and breeze into the Finals? Or will a lower seed shake things up?
We've listed the teams below, all you have to do is submit your rankings and then see how the rest of the country voted!
More: Pick every first-round series