Rank 'Em: NHL Power Rankings
Created: July 25, 2008, 7:38 AM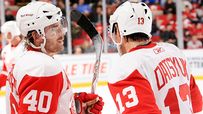 Are the Red Wings still the team to beat this season?
Sure, you're stuck sweating out the depths of summer waiting for the latest news on what is next for Mats Sundin, but that just means you've already made the turn for home in the NHL offseason. So how do you see the season shaping up, SportsNation?
ESPN.com's Scott Burnside had his say on how the conferences will shape up, but do you agree? Are the Red Wings still the team to beat after landing Marian Hossa? Which teams are the best bets to pry Lord Stanley's hardware from the Motor City?
The NHL season will be here before you know it, but do you already know what will happen? Submit your own Power Rankings!

Rank 'Em: NHL Power Rankings

Loading...

&nbsp

YOUR RANKINGS

1.
2.
3.
4.
5.
6.
7.
8.
9.
10.
11.
12.
13.
14.
15.
16.
17.
18.
19.
20.
21.
22.
23.
24.
25.
26.
27.
28.
29.
30.