Rank 'Em: NHL Power Rankings
Created: January 26, 2009, 11:55 AM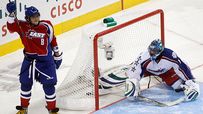 Which teams top the rankings coming out of the All-Star break?
Coming out of the All-Star break there are plenty of interesting storylines to follow. In the Atlantic, the New Jersey Devils have surprised many by laying claim to the division's top spot without the services of Martin Brodeur, who was lost to injury early in the season. Will the Devils continue to experience success if the top-heavy division?
While Brodeur-less Devils have stepped up their play in the East, in the West the young Blackhawks have emerged as a serious threat a season earlier than many expected. And while the Red Wings look poised to win the Central, Chicago is sure to give plenty of teams fits in the second half of the season.
Which teams are rising and which teams are falling in the Power Rankings,
as we come out of the All-Star break? Rank all 30 teams and then see
how the rest of SportsNation voted!

Rank 'Em: NHL Power Rankings

Loading...

&nbsp

YOUR RANKINGS

1.
2.
3.
4.
5.
6.
7.
8.
9.
10.
11.
12.
13.
14.
15.
16.
17.
18.
19.
20.
21.
22.
23.
24.
25.
26.
27.
28.
29.
30.