Rank 'Em: NFL Rivalries
Created: October 30, 2007, 4:57 PM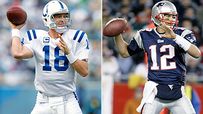 Peyton Manning and Tom Brady have matched up well throughout the years.
Football's greatest rivalries often define the tenor of an era and the direction of a league. Who can think of football in the mid-90's without picturing Steve Young and Jerry Rice facing off against Troy Aikman and Michael Irvin? Football seems to be at its best when two titans face off.
In the same way, this decade's version of the Colts and Patriots may follow in the tradition of these great rivalries--two teams, evenly matched on paper, battling it out in games often more-hyped than the actual Super Bowl. Though their rivalry has not yet run its course, it's clear the two teams have already produced some of the most dramatic games in NFL history.
Where do they rank among the great contests? Give us your opinion!
You must select rank ALL CHOICES to submit your selections.