Rank 'Em: Top NFL running backs
Created: June 2, 2008, 11:00 AM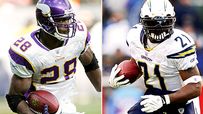 Rank the NFL's best RB's.
There is no denying the importance of a solid running game in today's NFL. From rookie Adrian Peterson's 1,341 yards to seasoned vet Brian Westbrook's 1,333 yards, today's league is stacked with power players.
But do you prefer a physical back like Brandon Jacobs or would you rather have a "catch me if you can" speedster like Willie Parker leading your team to victory? Which running back is the workhorse that your team can ride the entire season? How would you rank the NFL's top running backs? Give us your vote!
Scroll over the players pictures to see their 2007 stats and see how your rankings compare to the rest of SportsNation!
Rank 'Em: Top NFL running backs

Loading...

&nbsp