Rank 'Em: Greatest NFL Running Backs
Created: June 2, 2008, 2:30 PM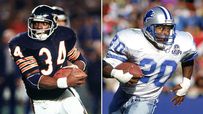 Rank the NFL's greatest RBs.
They did it all. From Hall of Fame stats to Super Bowl rings, these running backs are the best of the best. But are stats and rings all you need to be considered the greatest running back of all time?
Our list features all the greats, from Jim Brown to Emmitt Smith. But to be in the running for the greatest of all time you need to be able to pound it up the middle for a 3-yard gain and break it open for a 60-yard touchdown; in other words, you need to be the complete package. So which back would you vote the best all time? Give us your vote!
Scroll over the players pictures to see their career stats and see how your rankings compare to the rest of SportsNation!
Total SportsNation Votes:

15,186
How are the points calculated?
On a poll with 10 options, a No.1 ranking equals 10 points, a No.2 ranking equals 9 points, etc. The item with the most points will be ranked first.