Rank 'Em: Top 2009 Draft Point Guards
Created: June 24, 2009, 8:32 PM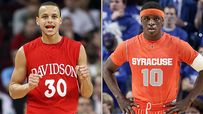 Who will dribble his way to the top of SN's rankings?
Chris Paul and Deron Williams, watch out, because a new crop of proficient point guards is about to get drafted into the NBA. But before that happens, we're asking SportsNation to play GM and rank these top point guard prospects of the 2009 NBA draft class. Is Stephen Curry a better shooter than Ricky Rubio? Is Ty Lawson a better ball handler than Jonny Flynn? It's time to find out how these future NBA point guards stack up in SportsNation's book.
Remember, Nation, you are not projecting the draft order here; rather, you are ranking the players based on their talent.
With that, let the ranking begin!
Rank 'Em: Top 2009 Draft Point Guards

Loading...

&nbsp