Rank 'Em: Top Teams Of The Decade
Created: December 24, 2009, 9:05 PM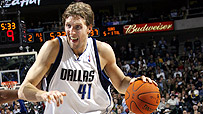 The 2005-2006 Dallas Mavericks made it to the NBA Finals for the first time in franchise history.
As we bid farewell to the first decade of the 2000s, ESPNDallas.com has culled together the top 10 teams over the past 10 years. Now it's your turn to tell us where they rank.
Weigh each team's attributes and cast your vote now!
You must rank at least FIVE for your vote to count.
Rank other Dallas all-decade lists: