Rank 'Em: Greatest All-Time Centers
Created: January 20, 2010, 8:15 AM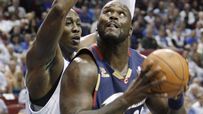 Where does Shaquille O'Neal rank?
How do you rank some of the greatest centers in NBA history?
Shaquille O'Neal recently became just the fifth player in NBA history to reach 28,000 career points, but is he one of the handful of greatest centers who ever played? A couple of low-post legends, Kareem Abdul-Jabbar and Wilt Chamberlain, remain ahead of Shaq on the scoring charts, and from Bill Russell's defense to Hakeem Olajuwon's grace and even Bill Walton's brief healthy dominance, there is plenty of competition on the block.
How do you size up the big men?
Rank 'Em: Greatest All-Time Centers

Loading...

&nbsp