Rank 'Em: Decade's Best Teams
Created: January 20, 2010, 10:33 AM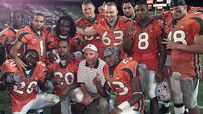 Were the 2001 Hurricanes the best team of the decade?
What was the best college football team of the past decade?
From Miami's "The U" squads in the beginning of the '00s, to Pete Carroll's heyday at USC in the middle of the decade, to the dominance of Florida and Alabama near the end, the 2000s have featured some top-flight squads. Some of these groups wouldn't look out of place on a "best team of all time" list.
Pat Forde has given his top ten teams of the past decade, but who do you think should be No. 1? Cast your vote now!
You must submit at least FIVE for your vote to count.
Rank: Programs | Coaches | Games | Plays | Players
Rank 'Em: Decade's Best Teams

Loading...

&nbsp