Rank 'Em: Decade's Best Programs
Created: January 21, 2010, 9:15 AM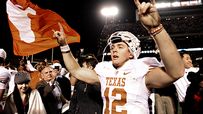 Is Texas the best team of the decade?
What was the best college football program of the past decade?
We're not talking individual teams here -- we're talking sustained excellence by an overall program over the past decade. Do you value bowl game wins more than championship appearances? Legendary seasons more than yearly competitiveness? Do you take a team's conference and competition into account?
Ivan Maisel has given his top ten programs of the past decade, but which do you think should be No. 1? Cast your vote now!
You must submit at least FIVE for your vote to count.
Rank: Coaches | Teams | Games | Plays | Players