Rank 'Em: MLB Farm Systems
Created: January 28, 2010, 10:23 AM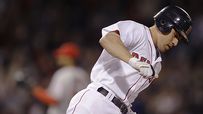 Are the Red Sox the best at developing young talent?
In baseball's long offseason, there's very little that excites fans more than the acquisition of a high-priced free agent. For teams to truly succeed, however, they must do the unglamorous work of developing a productive and consistent farm system.
Look at the Yankees' late-90s dynasty teams. Most people would agree that Derek Jeter, Jorge Posada, and Bernie Williams were the core of those squads, and all were home-grown by the Bronx Bombers. Recently, the Red Sox have brought up players like Dustin Pedroia, Kevin Youkilis, Jacoby Ellsbury, Jonathan Papelbon, and Jon Lester, all of whom rank near the top of their respective positions.
Keith Law has
ranked
the top farm systems for 2010, but which teams do you think have, historically, been the best at developing young talent? Cast your vote now!
You must rank at least
FIVE
for your vote to count.
Rank 'Em: MLB Farm Systems

Loading...

&nbsp

YOUR RANKINGS

1.
2.
3.
4.
5.
6.
7.
8.
9.
10.
11.
12.
13.
14.
15.
16.
17.
18.
19.
20.
21.
22.
23.
24.
25.
26.
27.
28.
29.
30.