Rank 'Em: NFL Pipeline Schools
Created: May 13, 2010, 1:03 PM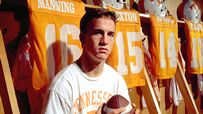 Is Tennessee a top-flight pipeline school?
Which schools are the best of the best when it comes to producing NFL talent?
It's all well and good to win a national championship or a Heisman, but many believe the true measure of a quality college program is how well it prepares its top athletes for life at the next level. We asked our bloggers to determine which program is tops in a head-to-head bracket format, but where do you think every school ranks in the grand scheme of things? Do Penn State's slew of linebackers outweigh Tennessee's high-wattage offensive stars? Does Clemson get bonus points for producing Brian Dawkins, or does Georgia outdo them with Champ Bailey? Cast your vote now!
You must rank at least FIVE for your vote to count.
Rank 'Em: NFL Pipeline Schools

Loading...

&nbsp