Rank 'Em: Super Bowl-winning quarterbacks
Created: January 21, 2011, 10:51 AM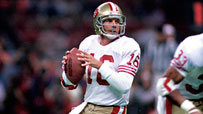 Joe Montana threw five touchdowns in Super Bowl XXIV.
Only 28 NFL quarterbacks have experienced the thrill of leading their team to Super Bowl win. If Aaron Rodgers can defeat the Pittsburgh Steelers in Super Bowl XLV, he will become No. 29.
The list of players to have completed the task is full of current and future Hall of Famers. Their performances in the big game have earned them a lifetime of notoriety and the undying love of millions of fans. But who has been the best of the best? What do your Super Bowl quarterback power rankings look like?
Cast your vote now by clicking on the photos below! You must rank at least FIVE for your vote to count.
Rank 'Em: Super Bowl-winning quarterbacks

Loading...

&nbsp

YOUR RANKINGS

1.
2.
3.
4.
5.
6.
7.
8.
9.
10.
11.
12.
13.
14.
15.
16.
17.
18.
19.
20.
21.
22.
23.
24.
25.
26.
27.
28.