Rank 'Em: Heisman Watch
Created: October 19, 2010, 7:11 AM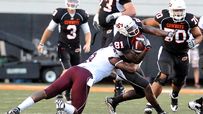 Where does Justin Blackmon, the nation's leading receiver, rank?
Who are the Heisman Trophy favorites after seven weeks?
Paul Hornung once won the Heisman Trophy despite playing for a Notre Dame team with a losing record, but even a single loss is increasingly a major mark against contenders for the award. That's bad news for Terrelle Pryor, coming off a loss at Wisconsin, and doubly bad news for Denard Robinson, coming off Michigan's second loss in a row. But if some of those who set the early pace are coming back to the pack, who is in that pack?
What does your ballot look like? Below you'll find every player who received at least one vote in ESPN.com's Heisman Watch voting.

Rank 'Em: Heisman Watch

Loading...

&nbsp