Rank 'Em: NFL Power Rankings
Created: October 19, 2009, 4:54 PM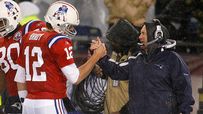 Will the Patriots climb up your ranks?
How do all 32 NFL teams rank?
When it rains, it pours -- and it was pouring hard Week 6 for the Patriots. A 59-0 Pats victory over the still winless (and perhaps still Terrible Towel-cursed) Titans proved that Tom Brady's still got it, and perhaps the Pats are a serious force to be reckoned with. Other notable NFL news from Sunday included the end of the Giants winning streak, a Jets loss to *gulp* Buffalo and a Raiders victory (yes, there is such a thing!) against the Eagles.
While the Raiders will probably not skyrocket up the rankings, does your confidence in the Eagles dip dramatically? How do the 5-1 Giants fit into the mix? It's time for you tackle these questions and Rank 'em!
Be sure to tune into "SportsNation" (weekdays on ESPN2 at 4 p.m. and midnight ET) to see which teams make the top five!
Rank 'Em: NFL Power Rankings

Loading...

&nbsp

YOUR RANKINGS

1.
2.
3.
4.
5.
6.
7.
8.
9.
10.
11.
12.
13.
14.
15.
16.
17.
18.
19.
20.
21.
22.
23.
24.
25.
26.
27.
28.
29.
30.
31.
32.