Rank 'Em: College Football Top 25
Created: November 8, 2009, 7:33 PM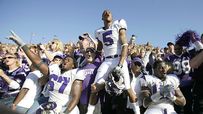 Did Iowa's loss to Northwestern drop them out of a championship spot?
As Iowa fans found out this Saturday, you can't lose to a team like Northwestern and expect to still be in the national championship picture.
In a shocker of a game, the formerly No. 4-ranked Hawkeyes fell to the Wildcats at home 17-10. The loss drops Iowa almost out of the top-10 in the BCS standings and ruins their bid for an undefeated season. Florida, Alabama, Texas, TCU, Cincinnati, and Boise St. are the only unbeatens remaining.
Which of these teams is the best in the game? Cast your vote now!
You must rank at least
FIVE
for your vote to count.
Rank 'Em: College Football Top 25

Loading...

&nbsp

YOUR RANKINGS

1.
2.
3.
4.
5.
6.
7.
8.
9.
10.
11.
12.
13.
14.
15.
16.
17.
18.
19.
20.
21.
22.
23.
24.
25.