Rank 'Em: College Basketball Power 16
Created: March 1, 2010, 1:31 PM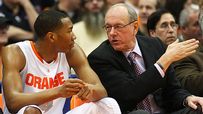 Should Syracuse be ranked No. 1?
How do you size up the top 16 teams in the country?
How quickly things change. Two weeks ago, Syracuse seemed to have fallen off the pace following a loss against Louisville that dropped the Orange from No. 3 to No. 5 in the rankings. Fast forward to the present and suddenly Jim Boeheim's team finds itself in sole possession of the No. 1 ranking in the ESPN/USA Today poll after a wild weekend in college basketball.
Do you agree or disagree with the most recent ESPN/USA Today poll? It's time for you to put the top 16 college hoops teams in the order you think is right.
Rank 'Em: College Basketball Power 16

Loading...

&nbsp