Rank 'Em: College Hoops Top 25
Created: January 25, 2010, 7:19 PM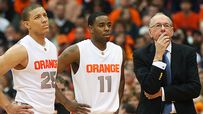 Where do the Orange rank after a big win against Georgetown?
The Kentucky Wildcats are the only undefeated team left in college basketball. Because of this, the team received the ESPN/USA Today men's coaches poll's top spot for the first time in six seasons. But does a perfect record automatically put them at No.1 in your book?
And in a Monday matchup featuring two of the top 15 teams in the nation, No. 4 Syracuse prevailed over No. 11 Georgetown. Did the Orange's solid play against Georgetown convince you that they should move up a few spots? Will it cause Georgetown to sink down a notch? Rank 'Em!
Be sure to tune in to "SportsNation" (weekdays on ESPN2 at 4 p.m. and midnight ET) to see which teams make the top five!
Rank 'Em: College Hoops Top 25

Loading...

&nbsp

YOUR RANKINGS

1.
2.
3.
4.
5.
6.
7.
8.
9.
10.
11.
12.
13.
14.
15.
16.
17.
18.
19.
20.
21.
22.
23.
24.
25.