Rank 'Em: 2011 Heisman Watch
Created: December 6, 2011, 7:15 AM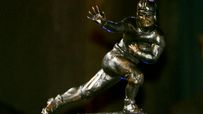 Who tops your Heisman ballot?
Which players top your Heisman Trophy ballot?
Each week during the college football season, ESPN.com's college football experts cast their hypothetical Heisman votes in the Heisman Watch. But why stop there? We give you every player who received a vote from the experts and give you the chance to submit your own rankings.
When the regular season began, SportsNation set Andrew Luck as its Heisman favorite, with Kellen Moore second, Trent Richardson fifth and Case Keenum ninth. How much did three months of football change the picture for those guys and other contenders below?
Total SportsNation Votes:

17,105
How are the points calculated?
On a poll with 10 options, a No.1 ranking equals 10 points, a No.2 ranking equals 9 points, etc. The item with the most points will be ranked first.