Rank 'Em: 2011 College Football Top 25
Created: November 20, 2011, 6:16 PM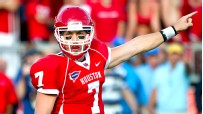 Where does undefeated Houston rank in your Top 25?
How do you see the Top 25 college football teams shaping up, SportsNation?
Oklahoma's Bob Stoops and Oregon's Chip Kelly made late-game decisions that propelled them to a two-loss season and helped cost their respective teams a shot at the BCS championship. Stoops elected to call a timeout, which stopped the clock and gave Baylor enough time to march down the field for the winning touchdown. Kelly, on the other hand, didn't use his timeouts and time ran out on a possible Ducks' comeback.
Houston remained undefeated, and it finally cracked the top 10 behind Heisman candidate Case Keenum's 318 passing yards and two touchdowns (one rushing). Should Houston still be ranked lower than one-loss teams?
Make your selections below! You need to select at least FIVE teams to submit your rankings.
Rank 'Em: 2011 College Football Top 25

Loading...

&nbsp

YOUR RANKINGS

1.
2.
3.
4.
5.
6.
7.
8.
9.
10.
11.
12.
13.
14.
15.
16.
17.
18.
19.
20.
21.
22.
23.
24.
25.
26.
27.
28.
29.
30.