Rank 'Em: Playoff Teams
Created: September 29, 2011, 12:30 AM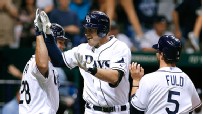 Are the Rays the team to beat this postseason?
Theoretically, all eight teams that made it to the postseason now have an equal shot at becoming the next World Series champion. But which teams stand out from the pack?
The American and National League races for the wild card were ones to remember. The Rays and Red Sox battled it out until the end, but the month of September continued to be not so kind to Boston. They squandered a ninth-inning lead against the Orioles, putting their fate in the hands of the Rays, who took full advantage by coming back from a 7-0 deficit to beat the Yankees 8-7. The Cardinals squeaked through with a shutout win over the Astros and a Braves loss at home to the Phillies. Can the last-minute wild-card teams keep their momentum going?
Which team is the strongest going into the postseason? Cast your vote now!
You must rank at least FIVE for your submission to count.