Rank 'Em: College Football Top 25
Created: September 27, 2009, 12:46 PM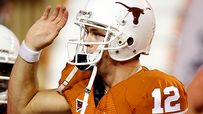 Are Colt McCoy and the Longhorns the best team in college football?
Another week of college football, another slate of big-time teams falling in the rankings.
Mississippi, Penn State and California all fell out of the top 10 with losses to unranked teams. California fell in particularly embarrassing fashion, as the Golden Bears managed only a field goal in a 42-3 drubbing by Oregon. The Ducks took advantage, however, jumping all the way to No. 16. In terms of the absolute cream of the crop, however, Florida, Texas and Alabama held firm.
Which team is the best in college football? Cast your vote now!
You must submit at least FIVE for your vote to count.
Rank 'Em: College Football Top 25

Loading...

&nbsp

YOUR RANKINGS

1.
2.
3.
4.
5.
6.
7.
8.
9.
10.
11.
12.
13.
14.
15.
16.
17.
18.
19.
20.
21.
22.
23.
24.
25.