Rank 'Em: College Football Top 25
Created: October 18, 2009, 1:12 PM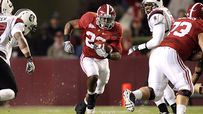 Where do Mark Ingram and Alabama rank?
For the first time since the beginning of the season, there's a new team at the top of the heap in the rankings.
Both Alabama and Florida remain undefeated, but the Gators haven't been winning big of late. Their most recent close call came at the hands of unranked Arkansas, which they barely beat 23-20 with a last-second field goal. Alabama, on the other hand, has been taking care of business rather well, including a 20-6 defensive clinic against South Carolina. Will this state of affairs hold up for the rest of the season?
Which team is college football's best? Cast your vote now!
You must submit at least FIVE for your rankings to count.

Rank 'Em: College Football Top 25

Loading...

&nbsp

YOUR RANKINGS

1.
2.
3.
4.
5.
6.
7.
8.
9.
10.
11.
12.
13.
14.
15.
16.
17.
18.
19.
20.
21.
22.
23.
24.
25.