ESPNU: Watch Top 25 games of 2013
Originally Published:
July 2, 2013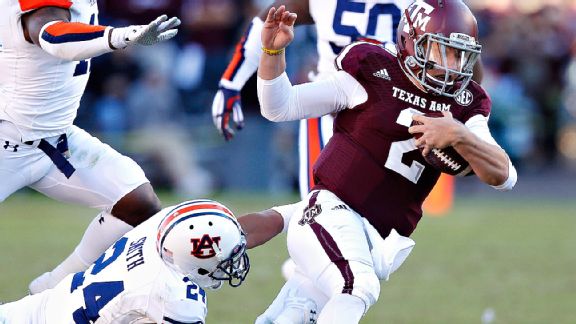 AP Photo/Bob LeveyDespite 454 yards passing from Johnny Manziel, No. 24 Auburn outlasted the No. 7 Aggies 45-41.
ESPNU's Top 25 College Football Games of 2013 Schedule
ESPNU is counting down the top 25 college football games of 2013, and your votes will determine the order of the top five. See the schedule below. Click the scores for a recap of the game, and don't miss your pick for the best game of 2013, which will air Aug. 3 at 9 p.m. ET.
| Game | Airdate on ESPNU |
| --- | --- |
| No. 25 - Michigan State 24, Stanford 20 (Rose Bowl) | July 21, 7 ET |
| No. 24 - Colorado St. 48, Washington St. 45 (New Mexico Bowl) | July 21, 10 ET |
| No. 23 - Alabama 49, Texas A&M 42 | July 22, 7 ET |
| No. 22 - Fresno State 52, Rutgers 51 | July 22, 7 ET |
| No. 21 - Navy 58, San Jose State 52 | July 23, 7 ET |
| No. 20 - Georgia 44, LSU 41 | July 23, 10 ET |
| No. 19 - Clemson 40, Ohio State 35 (Orange Bowl) | July 24, 7 ET |
| No. 18 - Arizona State 32, Wisconsin 30 | July 24, 10 ET |
| No. 17 - Auburn 45, Texas A&M 41 | July 25, 7 ET |
| No. 16 - Oregon State 51, Utah 48 | No re-air |
| No. 15 - Georgia 34, Tennessee 31 | July 28, 7 ET |
| No. 14 - Penn State 43, Michigan 40 | July 28, 10 ET |
| No. 13 - Notre Dame 38, Navy 34 | No re-air |
| No. 12 - Rutgers 55, SMU 52 | July 29, 7 ET |
| No. 11 - Ole Miss 39, Vanderbilt 35 | July 29, 10 ET |
| No. 10 - Oklahoma 33, Oklahoma St. 24 | July 30, 7 ET |
| No. 9 - Michigan St. 34, Ohio St. 24 (Big Ten Championship) | No re-air |
| No. 8 - UCF 38, Louisville 35 | July 30, 10 ET |
| No. 7 - South Carolina 27, Missouri 24 | July 31, 10 ET |
| No. 6 - Oregon 36, Oregon St. 35 | No re-air |
| No. 5 - Determined by your votes! | Aug. 1, 7 ET |
| No. 4 - Determined by your votes! | Aug. 2, 6 ET |
| No. 3 - Determined by your votes! | Aug. 2, 9 ET |
| No. 2 - Determined by your votes! | Aug. 3, 6 ET |
| No. 1 - Determined by your votes! | Aug. 3, 9 ET |