Commentary
DJ Gallo's NBA Finals captions, Gm. 7
Originally Published:
June 21, 2013
By
DJ Gallo
| ESPN.com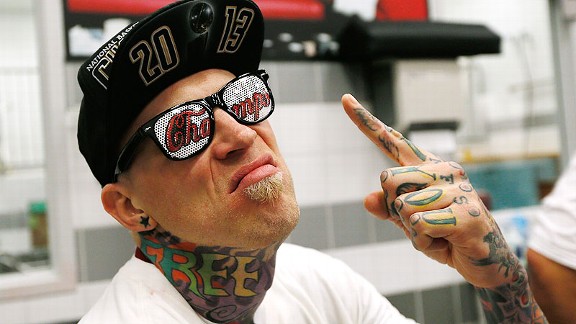 Kevin C. Cox/Getty Images"It's about time I get some attention."
"Always have to limber up so I don't get hurt flopping."
"That's right. I'm probably going to stay through an entire Game 7. Take that, haters."
"Everyone quiet! They're putting Marlins highlights on!"
"Gwaaaaaaaaahck! Time to lay my eggs. Gwaaaaaaaaahck!"
"I'm not normally one to give hair advice, but what are you doing up there, young fella?"
"Come on. You're not too old, Mike Miller. You've got one more good year in you."
"I feel like a champion because I don't have to talk to any of you for three months."
"I hope this outfit isn't too flashy to wear after a loss."
"Seriously, it's real! They honestly still make these things! It's like holding a museum in my hands!"
"Even though I ordered a seven-game Finals, I never expected it to be this good. Ha. Just kidding. Or am I?"
SPONSORED HEADLINES
ESPN TOP HEADLINES
MOST SENT STORIES ON ESPN.COM