Commentary
Gallo: Sports' biggest losers
Updated:
September 5, 2013, 11:21 PM ET
By
DJ Gallo
| ESPN.com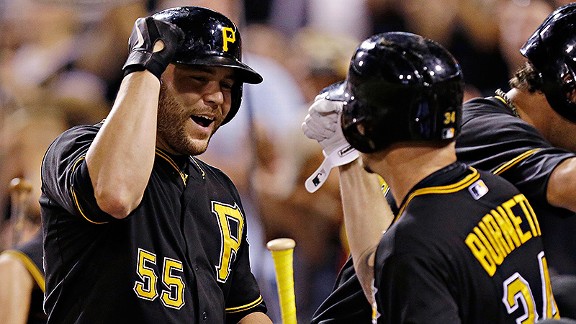 AP Photo/Gene J. Puskar"Woooo! Better than the Bills!"
The Pittsburgh Pirates are losers no more. After 20 years, the Pirates have ended their streak of consecutive losing seasons -- the longest streak in the history of American professional sports.
But there is no winning without losing. And as the Pirates are on the upswing, other sports franchises are still plummeting off a cliff without a parachute. Let's take a look at the teams with the longest losing streaks in the four major sports.
MLB
Kansas City Royals -- nine consecutive losing seasons
When the losing began: 2004. After a promising 83-79 record in 2003, the Royals bottomed out to 58-104 in 2004, beginning a streak of three consecutive 100-loss seasons. Oh, and that winning season in 2003 ended an eight-season futility streak, meaning the Royals have finished with a losing record in 17 of the past 18 seasons. Yikes. That's downright Pirateian.
Record during the streak: 595-863, for a .408 winning percentage. Average record: 66-96.
Best season of the streak: 2008, when the Royals went 75-87 and finished 13 1/2 games out of first place. That magical team, which started Ross Gload and Joey Gathwright, was at .500 as late as April 19th, at 9-9.
Random names of people who have played for the Royals during their streak: Ruben Gotay, Calvin Pickering, Ambiorix Burgos, Mitch Maier, Yasuhiko Yabuta.
Name to know: Dayton Moore. He has been general manager of the Royals since early in the 2006 season. Maybe it's a 10-year plan. You don't know.
Chances the streak will end soon: Very good.
As of this writing, the Royals are six games over .500 with 24 left to play and are closer to a wild-card spot than a losing season. For the sake of trying not to depress everyone, let's say the Royals hold on and finish 81-81 or better. The loser mantle will pass to the Indians, Mets and Astros, all of whom are on a run of four consecutive losing seasons. But the Indians are eight games over .500, so that pretty much leaves the Mets and the Astros to carry the torch of sustained MLB failure. Both organizations are quite deserving and will no doubt do a fine job with this sacred duty.
[+] Enlarge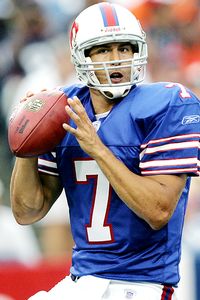 AP Photo/David DupreI mean, his name is pronounced "Loss-man."
NFL
Buffalo Bills -- eight consecutive losing seasons
When the losing began: After a 9-7 season in 2004 under rookie head coach Mike Mularkey, the Bills dipped to 5-11 in 2005, in part due to shockingly subpar play at the quarterback position by Kelly Holcomb and J.P. Losman.
Record during the streak: 48-80, for a .375 winning percentage. Average record: 6-10.
Best season of the streak: More like seasons, plural. From 2006-08, the Bills reeled off three consecutive 7-9 seasons, proving to a new generation that if you want a painfully frustrating streak in the NFL, you want the Buffalo Bills. Special recognition is deserved by the 2008 team, which opened 4-0. Alas, they went 2-8 over the final 10 games.
Random names of people who have played for the Bills during the streak: Shaud Williams, Brian Brohm, Jehuu Caulcrick, Ashton Youboty.
Name to know: Terrell Owens. Thirty-six year-old, "washed up" Terrell Owens had 55 receptions and 829 yards for the 2009 Bills. Both led the team. Buffalo did not re-sign him in 2010.
Chances the streak will end soon: Not so good.
The Bills were just days away from starting undrafted rookie Jeff Tuel in Week 1. Tuel threw eight touchdowns and eight interceptions last year at Washington State and went 2-8 as a starter. Sweet, merciful God. Instead, they'll be able to start rookie first rounder EJ Manuel. Hooray! Unfortunately, the Bills still only get to play the Jets twice a season, so the good news ends with Manuel.
[+] Enlarge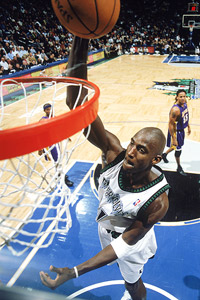 David Sherman/NBAE/Getty ImagesAnything is possible! (Except winning in Minnesota.)
NBA
Minnesota Timberwolves -- eight consecutive losing seasons
When the losing began: In 2005-06, just two seasons after making it to the Western Conference Finals, the Wolves went 33-49.
Record during the streak: 200-440, for a .312 winning percentage. Average record: 26-56.
Best season of the streak: You know that one I mentioned earlier? The first losing season in 2005-06? Yeah, that's the best season the Timberwolves have had in eight years. Yeah. I know. Rough.
Random names of people who have played for the Timberwolves during the streak: Richie Frahm, Antoine Walker, Bobby Brown, Nathan Jawai, Lazar Hayward.
Name to know: Former Timberwolves GM David Kahn. Oh, have jokes been made about him already on the Internet? I see. Well, then let's go with Kevin Garnett. After just two losing seasons in Minnesota, he accepted a trade to the Celtics to play with Paul Pierce and Ray Allen. Then, last year, he refused to acknowledge Allen after Allen went to greener pastures in Miami … all the while willingly playing with Jason Terry, who made a similar pasture improvement move in going to Boston from Dallas. Will Kevin Garnett ever understand irony? ANYTHING IS POSSIBLE. Except that, probably.
Chances the streak will end soon: Not very good.
Update! While anything might be possible, two things probably aren't: Garnett understanding irony and the Timberwolves having a winning season in the near future.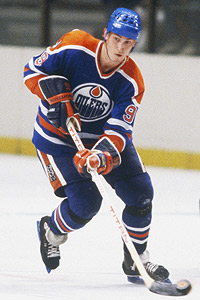 Focus on Sport/Getty ImagesWayne Gretzky could still help the Oilers out, eh?
NHL
Edmonton Oilers -- four consecutive losing seasons
When the losing began: After trading Wayne Gretzky in 1988? Actually, no. (The Oilers won a Cup not long after Gretzky left, by the way.) Per the construct of this article, the losing began in 2009-10 with a 27-47-8 record. The Oilers have also missed the playoffs for seven consecutive years, which is quite a feat in the NHL.
Record during the streak: 103-151-37.
Best season of the streak: Last season, the Oilers went 19-22-7 and were 16-13-7 with less than a month to go in the season and a playoff spot in their sights. They then proceeded to lose nine of 10. Luckily, hockey isn't popular in Canada, so probably no one cared.
Random names of people who have played for the Oilers during the streak: Jean-Francois Jacques, Jeff-Drouin-Deslauriers, Dean Arsene, Yann Danis.
Name to know: Taylor Hall. As Andrew McCutchen has led the Pirates out of the valley of the shadow of death, the No. 1 overall pick in the 2010 draft is in the process of doing the same for the Oilers. Too bad he doesn't also wear dreads. It would be a bold new direction in hockey hair.
Chances the streak will end soon: Good.
Hall is just one of the young, talented pieces the Oilers have put in place. Of course, many "experts" thought the Oilers would be good last season, too, and that didn't go so well. Remember, when it comes to perennial losers, it's always smart to be patient and have a sense of humor. As former Edmonton defenseman Ryan Whitney said around this time last year when told that Sports Illustrated had the Oilers third in their preseason power rankings: "Third? Not third in the West, either? Overall? I think that ... well. Marijuana is legal in some areas."
That it is. And hopefully it will be soon in cities such as Buffalo and Minneapolis-St. Paul.
SPONSORED HEADLINES
ESPN TOP HEADLINES
MOST SENT STORIES ON ESPN.COM
Max_Kellerman

Max Kellerman


.@sum1onelse @RoldBoxing @Studhardt22 @marqc4 @MyClippers @SportsNation yep, & if he pitched like Hershiser in his prime, he'd be Babe Ruth
about a minute ago

Max_Kellerman

Max Kellerman


.@Max_Kellerman gutierrezjosh @19bailey73 @markrich33 fact
14 minutes ago

Max_Kellerman

Max Kellerman


.@Im_gr8nss @RoldBoxing @Studhardt22 @marqc4 @MyClippers @SportsNation career value yes. Prime value not close. Objectively Mantle by a lot.
14 minutes ago

Max_Kellerman

Max Kellerman


.@RoldBoxing @Im_gr8nss @Studhardt22 @marqc4 @MyClippers @SportsNation Mays greater career, but prime v prime Mantle significantly better
30 minutes ago

SportsNation

SportsNation


Things got a little uncomfortable on our ESPN tour with "LeBron" Check it out by adding "sportsnation" on @Snapchat http://t.co/BReitaW8w1
40 minutes ago

Max_Kellerman

Max Kellerman


.@RoldBoxing @Studhardt22 @marqc4 @MyClippers @SportsNation no baseball player in any top league, in any era has case v Ruth
52 minutes ago

Max_Kellerman

Max Kellerman


.@jrosales13 @RoldBoxing @Studhardt22 @marqc4 @MyClippers @SportsNation love Greb & Langford. Very familiar w/their careers. No case v SRR
53 minutes ago

Max_Kellerman

Max Kellerman


.@RoldBoxing @Studhardt22 @marqc4 @MyClippers @SportsNation Ruth's World Series scoreless IP record lasted > than HR record. Great $ PITCHER
54 minutes ago

Max_Kellerman

Max Kellerman


.@RoldBoxing @Studhardt22 @marqc4 @MyClippers @SportsNation would be true IF Josh Gibson also a stud pitcher or Satchel also great slugger
about an hour ago

Max_Kellerman

Max Kellerman


.@Harrison101HD #2 at position, bottom half of top 10 overall
about an hour ago

Ballislife

Ballislife.com


A 17 year old Kobe Bryant scored 36 points vs the Suns in the 1996 NBA summer league and made it look… http://t.co/EbbbrHqhOi
about an hour ago

LakerNation

Laker Nation


The most entertaining guy on twitter! RT @JoelEmbiid: Hey baby holla at me!! Dinner at giorgios at 930pm @rihanna????"
about an hour ago

Max_Kellerman

Max Kellerman


.@chw4 @MyClippers @marqc4 @Studhardt22 @SportsNation top 5! That's a good one.
about an hour ago

Max_Kellerman

Max Kellerman


.@Studhardt22 @marqc4 @MyClippers @SportsNation soon as Jordan got crewed up, 1 year after Pippen made All-Star, Jordan ran table every year
about an hour ago

Max_Kellerman

Max Kellerman


.@NYR248 @markrich33 sure you're not thinking of yourself? I'm pretty sure you are, but look, it's possible I'm wrong.
about an hour ago

Max_Kellerman

Max Kellerman


.@marqc4 @MyClippers @Studhardt22 @SportsNation 3 like it of not were clearly GOAT: Michael Jordan, Babe Ruth, Sugar Ray Robinson
about an hour ago

Max_Kellerman

Max Kellerman


.@Bigjimnash risk/reward still unbalanced.
about an hour ago

Max_Kellerman

Max Kellerman


.@ClintThomason @sum1onelse @Studhardt22 @SportsNation Wilt played on great teams & if it comes down to G7, usually team w/best player wins
about an hour ago

Max_Kellerman

Max Kellerman


.@sum1onelse @Studhardt22 @SportsNation think someone else's team, like I dunno WILT CHAMBERLAIN's'd win a G7 v Russell once? 1 single time?
about an hour ago

MyClippers

Jim McClippers


@Max_Kellerman @marqc4 @Studhardt22 @SportsNation Playing during Russell era was much more difficult than Jordan's.
about an hour ago