Commentary
Gallo: What if Peyton Manning ...
... had joined the New York Giants? We explore this alternate universe.
Updated:
September 13, 2013, 10:22 PM ET
By
DJ Gallo
| ESPN.com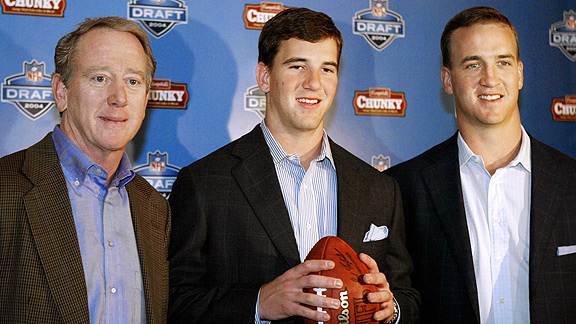 AP Photo/Ed BaileyWhat if Archie Manning had made Peyton go to the New York Giants in 1998?
Everyone knows the story of how Eli Manning ended up in New York. The Chargers selected him No. 1 overall in 2004, Archie Manning made it clear he didn't want his son playing in San Diego and the Eli-Philip Rivers trade went down. The rest? History.
But what if Archie Manning had decided to meddle with his son Peyton's draft fate in 1998? The talent on that year's Indianapolis Colts was no better than what the San Diego Chargers of 2004 had, and neither city is a top-tier media market.
With another Peyton-versus-Eli showdown on the way, let's see how NFL history would have changed had Peyton Manning been acquired by the New York Giants in 1998.
1998
As the 1998 NFL draft approaches, Tennessee's Peyton Manning emerges as the front-runner over Ryan Leaf of Washington State. Despite whispers that Archie Manning doesn't want his son to play in Indianapolis, where he will be far away from national media attention and playing behind an offensive line that includes famed NFL bust Tony Mandarich, the Colts take Manning No. 1 overall.
Archie immediately begins working the phones and lets the Giants know he would like his son to play in New York. The Giants, coming off a 10-5-1 wild-card playoff season despite being saddled with Danny Kanell and Dave Brown at quarterback, leap at the opportunity to nab the young and talented Peyton. The Colts finally accept that they will not be able to sign Manning and agree to trade him to the Giants in exchange for New York's first-round pick (No. 24 overall), second-round pick and a first- and second-rounder in 1999.
Despite Manning's promise, he struggles in his rookie season with the Giants, throwing 28 interceptions and posting a 71.2 quarterback rating (just as he did in Indianapolis in his real rookie year). As the Giants fall out of the playoff race, coach Jim Fassell goes on an epic "Playoffs? Playoffs?" rant.
Meanwhile, in Indianapolis, the Colts re-sign their 1997 quarterback, Jim Harbaugh, for the 1998 season. In Week 1, after Mandarich gives up sacks on three consecutive plays, Harbaugh freaks out and violently assaults the lineman and several officials who try to break up the attack. Harbaugh is immediately arrested.
Oh, by the way, the Chargers still take Ryan Leaf No. 2 in this alternate history. Sorry, San Diego. Alternate history can suck, too, unfortunately.
1999
Peyton is hounded all offseason by the brutal New York tabloids for his turnovers and inability to take the Giants back to the playoffs. Back-page headlines such as "Peyton's Place? On the Bench?" and "The Turnover Man-ning" take their toll and under the intense regular-season pressure -- similar to the playoff pressure he often folded under in real-history Indianapolis -- he fails to improve much in his second season. The Giants miss the playoffs again.
Meanwhile, Jim Harbaugh is convicted on assault charges and sentenced to 15 years in prison. Today, the San Francisco 49ers are coached by Gene Chizik, who was one of the hottest names in college coaching after the 2010 season after leading Auburn to a national title. Despite his big contract, Chizik is on the hot seat this year after coaching the 49ers to an 8-8 season in 2011 and a 2-14 season in 2012.
2000
Peyton Manning faces growing pressure as the 2000 season opens. The national media joins in with the New York tabloids and the debate grows that with Manning and Leaf, the 1998 NFL draft had "the biggest busts ever."
Another missed playoff berth by Peyton's Giants only adds fuel to the fire. Something has to change soon or Peyton's once-promising NFL career could be on the outs. Another can't-miss quarterback, like fellow SEC star Tim Couch, thrown to the scrap heap of pro football history.
[+] Enlarge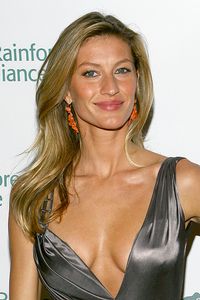 Scott Wintrow/Getty ImagesMeet Mrs. Gisele Manning.
2001
Then it happens. Manning is invited to a New York Fashion Week event in February 2001. While not his normal scene, he accepts the invite. After all, there is only so much disappointing game film one can watch all alone in a New York apartment.
At the event, he happens to be introduced to a young, Brazilian model named Gisele Bundchen. The two instantly hit it off and become a serious couple.
Not long after, the Giants decide they need to make a trade to upgrade their defense. The Baltimore Ravens just won a Super Bowl over the Minnesota Vikings with a stifling defense, and Giants management feels they need to give Manning more help on that side of the ball. A trade is made with the New York Jets and linebacker Mo Lewis comes to the Giants.
With an international beauty in his corner to give him confidence and a stronger defense behind him to help on the field, Peyton Manning has the best season of his career in 2001. The Giants lose in the divisional round of the playoffs, but Manning sheds the "bust" label once and for all.
The Super Bowl is won by the surprising New England Patriots behind 100 percent-healthy Drew Bledsoe.
2002
Peyton makes his first Pro Bowl and wins his first playoff game. He also marries Gisele Bundchen and, thanks to the high-profile superstar duo, large foreheads become the biggest fashion trend in decades. Archie's plan to capitalize on the marketing opportunities provided by New York also begins to bear fruit, as Peyton appears in an episode of "Friends" and in a Nelly video.
2003
Here, Manning's pro football career really takes off. He puts up career highs in every passing category, and the Giants coast into a Super Bowl matchup against Bledsoe and the Patriots. The game is not even close. It gets so out of hand that with Bledsoe and the Patriots up 40 points midway through the fourth quarter, Bledsoe is pulled and Patriots backup Tom Brady enters the game for mop-up duty. Brady plays horribly -- one pass is even embarrassingly intercepted when a Giants players catches it on his helmet -- and is knocked out of the game on a brutal hit by Giants linebacker Lewis. It turns out to be the only action of Brady's NFL career. He is released by the Patriots after the season.
Meanwhile, Eli Manning finishes his college career at Ole Miss and prepares for the 2004 NFL draft.
2004
With Peyton already on the Giants, no team in Los Angeles and by no means wanting his youngest son to play for the historically embarrassing Jets, Archie Manning doesn't stand in the way when the small-market Indianapolis Colts use the No. 1 overall pick on Eli.
Young, introverted Eli is able to thrive far away from the bright lights of New York City and in the protection of a domed stadium, and he has a very good rookie year.
The Giants fail to make it back to the Super Bowl, as they struggle to adjust to new head coach Tom Coughlin. (Jim Fassel decided to retire after the 2003 Super Bowl, content to live on the piles of Coors Light ad money he made from his now-famous "Playoffs? Playoffs?!" rant.)
2005
Peyton has another big statistical season, but the Giants lose in the playoffs. Whispers begin to grow that Gisele is distracting him from football, as Peyton begins making bizarre hairdo and fashion choices. He also chooses to endorse a line of women's footwear.
Eli's Colts tear through the AFC during the regular season only to lose to the Pittsburgh Steelers in the divisional round of the playoffs when Colts kicker Mike Vanderjagt misses a late field goal. Eli refers to Vanderjagt after the game as an "idiot kicker." Eli's mom later forces him to apologize for using such language.
[+] Enlarge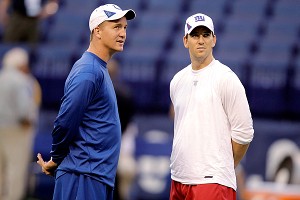 AP Photo/Michael ConroyHa. They switched clothes. As a joke or something.
2006
The Mannings meet for the first time in a Week 1 "Manning Bowl." Eli's Colts beat Peyton's Giants. The win sets Indianapolis off on a remarkably dominant season. Unbeaten through the entire regular season, Eli's Colts head into the Super Bowl at 18-0 as heavy, double-digit favorites. However, in perhaps the biggest upset in Super Bowl history, Rex Grossman and the Bears win on a late touchdown pass. The post-loss Manning Face of shock and disappointment made by Eli is remembered as perhaps the most famous image in Super Bowl history.
2007
His face still stuck like that, Eli struggles during the 2007 season. However, Peyton picks up the slack and gets the Giants back to their first Super Bowl since the 2003-04 season. Unfortunately, Peyton's Giants are demolished by Kliff Kingsbury's Patriots, who successfully complete the first 19-0 season in NFL history. (Kingsbury had kept a roster spot with the Patriots following the 2003 season after the ineffective Brady was cut. He eventually took over behind center after Bledsoe retired, and now the handsome signal-caller is considered the face of the NFL.)
2008
After four surgical procedures to get his Manning Face unstuck, Eli returns for the 2008 season. Both Mannings play well in 2008, but the Super Bowl ends up being an epic matchup between Grossman and Kingsbury. Grossman pulls out another title.
2009
Both Manning brothers make deep runs in the playoffs, but Eli's Colts lose in the AFC title game and Peyton's Giants fall in the Super Bowl, both to the same opponent: Drew Brees and the San Diego Chargers. The Super Bowl is clinched when San Diego defensive back Tracy Porter picks off a Manning pass and returns it for a touchdown. Porter was drafted by San Diego using the pile of picks the Chargers received when they wisely decided to trade Philip Rivers to the Saints before the 2006 season.
In other professional sports news, former Giants coach Jim Fassel decides to get back into football by coaching the Las Vegas Locomotives of the UFL. He grants a tryout to former Patriots backup Tom Brady, who is unable to stick with the Locomotives as backup.
2010
Manning Bowl II highlights Week 2 of the 2010 season, with Peyton evening the series at 1-1. NFL quarterback stalwarts Grossman and Kingsbury have uncharacteristically down years, allowing both Mannings to reach the Super Bowl. With the game tied at 24-24 with two minutes remaining, a power outage shuts off all the lights in the stadium. Archie Manning negotiates a deal with Roger Goodell that ends the game in a tie and gives Super Bowl rings to both of his sons, the first for the family. It is later discovered that Archie had shut off the stadium's main breaker.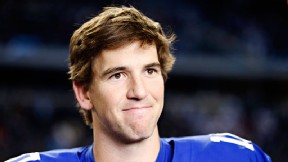 AP Photo/Sharon EllmanTrainer!
2011
Delighted to have won a Super Bowl, Eli suffers a recurrence of sustained Manning Face and misses the season. The Colts go 2-14 and trade him to the Broncos after the season. Peyton's Giants are knocked off in the Super Bowl due to a dramatic fourth-quarter comeback by Jaguars quarterback Tim Tebow.
2012
Tebow wins another Super Bowl, remarkably knocking off Eli Manning, Kingsbury and Grossman to get it done. Peyton's Giants fail to make the playoffs for the first time in years. Gisele Manning is overheard blaming Peyton's receivers following the Giants' elimination game.
In college football news, Texas Tech hired Rohan Davey after the season to be its new head football coach.
2013
Peyton Manning throws seven touchdowns in the Giants' Week 1 win over the Cowboys, causing Dallas owner Jerry Jones to finally fire Jason Garrett as head coach and himself as general manager.
The performance only raises the profile of the Manning-versus-Manning matchup in Week 2. Tom Brady, who lives at his parents' home in California, has both players on his fantasy team and decides to start Peyton.
SPONSORED HEADLINES
ESPN TOP HEADLINES
MOST SENT STORIES ON ESPN.COM
SportsNation

SportsNation


Just in case you were wondering why Phil Jackson decided to join the Knicks » http://t.co/duUaK4IYVg http://t.co/FmP4lXG8q3
about an hour ago

SportsNation

SportsNation


We're recapping the epic twitter feud between Richard Sherman and DeAngelo Hall. Here's Sherm's rant. ESPNEWS now! http://t.co/cnXgQ1Bolc
about 2 hours ago

SportsNation

SportsNation


EXCLUSIVE: Kobe was not happy after he heard the Knicks were scheduling major announcement for Tuesday » http://t.co/cvC9AJgqBG
about 3 hours ago

SportsNation

SportsNation


SportsNation #whaling in the ESPN newsroom https://t.co/oNkU951gEV
about 4 hours ago

Max_Kellerman

Max Kellerman


Admit it, @dmorey & the @HoustonRockets wanting @carmeloanthony makes you think more highly of Carmelo. ? is: what does @PhilJackson11 think
about 4 hours ago

SportsNation

SportsNation


It's Friday and @MichelleDBeadle is happy #TGIF http://t.co/r5wIybLuXp http://t.co/ug3KG19Jfv
about 5 hours ago

SportsNation

SportsNation


We're recapping the epic twitter feud between Richard Sherman and DeAngelo Hall. ESPN2 now! http://t.co/yptwJo6MaD
about 5 hours ago

Max_Kellerman

Max Kellerman


.@MichelleDBeadle very excited to go see the new #Muppets movie. http://t.co/UBqMHxul4h
about 5 hours ago

Max_Kellerman

Max Kellerman


Catch #sportsnation 6pm ET ESPNEWS see who won 4 tix to Blazers-Pelicans tonight. Just bought them for 27 cents each on stubhub. #truestory
about 5 hours ago

SportsNation

SportsNation


In New Orleans & want free tickets to the Pelicans game? Send us your best unibrow selfie. The best one will win @Max_Kellerman's 4 tickets!
about 6 hours ago

SportsNation

SportsNation


.@Max_Kellerman bought 4 tickets to tonight's Blazers/Pelicans game for $1.08. If you're in New Orleans & interested in going stay tuned!
about 6 hours ago

Max_Kellerman

Max Kellerman


#TwitterBeef Round 1: @DeAngeloHall23 ...10 @RSherman_25 ........9 @shotfighter26 (Harold Lederman) you agree? #sportsnation
about 6 hours ago

SportsNation

SportsNation


Happy Birthday @StephenCurry30! RT if you think he dominated pop-a-shot at his birthday parties at Chuck E. Cheese. http://t.co/8T1e8znwbX
about 6 hours ago

SportsNation

SportsNation


Bill Belichick looks pumped after the signing of Darrelle Revis (via @TerezOwens) http://t.co/8nJO7k1Nu1
about 7 hours ago

SportsNation

SportsNation


RT @ESPN_Numbers: Allen Iverson and Oscar Robertson would love to wish you a Happy Pi Day » http://t.co/2pu7KcRIpg
about 9 hours ago

SportsNation

SportsNation


.@RSherman_25 & @DeAngeloHall23 are exchanging some strong tweets between each other. http://t.co/hVc37bQhhD
about 22 hours ago

Max_Kellerman

Max Kellerman


Max and Marcellus ESPNLA 710am weekdays, 3-7pm PT Download the podcast http://t.co/bICnqQZBfJ
1 day ago

SportsNation

SportsNation


Oklahoma St. - Kansas is done & we're just starting! SN is on! ESPN2 now!
1 day ago

SportsNation

SportsNation


RT @dannypudi: Jump ball! 2:30 pm on ESPN2. Thanks for letting me play @SportsNation @blakegriffin32 http://t.co/Qbh0ZyrT30
1 day ago

Max_Kellerman

Max Kellerman


Great idea. Dan Snyder on wrong side of history here. "@ProFootballTalk: Pelosi: Redskins should lose trademark http://t.co/z1sEdkrdZT"
1 day ago
BEST OF THE BEST
Revis vs. Ware?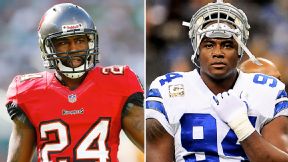 Which player has a brighter NFL future: Darrelle Revis, or DeMarcus Ware? Vote! »