No. 108: Toronto Raptors
2013 Ultimate Standings
Updated:
September 19, 2013, 11:47 AM ET
By
Eddie Matz
| ESPN The Magazine
Last year's rank: 103
Title track: 119
Ownership: 98
Coaching: 90
Players: 105
Fan relations: 105
Affordability: 111
Stadium Experience 95
Bang for the Buck 91
In the plus column, the Raptors actually finished ahead of four other NBA teams in this years standings. The minus? They were still saddled with a triple-digit overall ranking for the fifth straight year. Its hard to say whose departure Dino fans are more thrilled about: Andrea Bargnani, the 2006 top overall draft pick whod become so hated in Toronto that in February at the Air Canada Centre, he was booed upon returning from an elbow injury; or former exec Bryan Colangelo, the man who drafted Bargnani. One things for sure -- the guy responsible for getting rid of them, former Nuggets GM and 2013 Exec of the Year Masai Ujiri, has Raptors rooters revved. (It should be noted that the 98 rank in ownership could be a bit misleading since Ujiri was hired right at the end of our data collection period.) This is just the beginning of the house cleaning, says thestar.com user TheTruth. We finally have someone who understands what needs to be done to get this organization on track.
SPONSORED HEADLINES
ESPN TOP HEADLINES
MOST SENT STORIES ON ESPN.COM
ESPN The Magazine: Sept. 30, 2013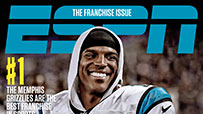 The Mag on Twitter | Facebook | iPad
NBA ULTIMATE RANKINGS