No. 4: Oklahoma City Thunder
2013 Ultimate Standings
Updated:
September 23, 2013, 12:23 PM ET
By
Ross Marrinson
| ESPN The Magazine
Last year's rank: 1
Title track: 40
Ownership: 20
Coaching: 54
Players: 3
Fan relations: 3
Affordability: 5
Stadium Experience 8
Bang for the Buck 8
After being dubbed the Best Franchise in Sports by The Mag in 2012, the Thunder dropped to No. 4, which was probably predictable, given the postseason letdown last season. Still, fourth is nothing to sneeze at; OKC has top-10 rankings in five categories. In fact, the Thunder were among the NBA's top five in seven of our eight categories, thanks largely to the incredible value Thunder games are in the sports world. Winners of the Northwest Division three years running, the organization charges 8 percent less than the NBA average for a ticket ($47.15); 29 percent less for a beer ($5); and almost 70 percent less for parking, with an NBA-low $5 to house your ride. OKC is quickly becoming, if it isn't already, the model NBA franchise, known for quality players and an enjoyable -- and affordable -- game experience (eighth overall in the bang for the buck category, and fifth in the affordability ranking). Now if only coach Scott Brooks would play plus/minus wizard Nick Collison at center instead of Kendrick Perkins, the Thunder's rating for coaching, 12th in the league and OKC's lowest rank, might jump back to the top of the standings. But for right now, even with Perkins, GM Sam Presti and owner Clay Bennett seem to have it figured out: a consistently winning product on the court with just as enjoyable an experience for fans off of it.
SPONSORED HEADLINES
ESPN TOP HEADLINES
MOST SENT STORIES ON ESPN.COM
ESPN The Magazine: Sept. 30, 2013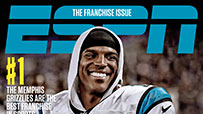 The Mag on Twitter | Facebook | iPad
NBA ULTIMATE RANKINGS
EDITORS' PICKS
LeBron, Magic, Snoop Dogg congratulate Kobe.
Check it out »

Papa John's accidentally trolls Browns fans.
Check it out »

Mavs' Nowitzki, Ellis and Parsons rap as 'Run DMC.'
Watch »