Inbee Park is major league
Originally Published:
July 2, 2013
ESPN SportsNation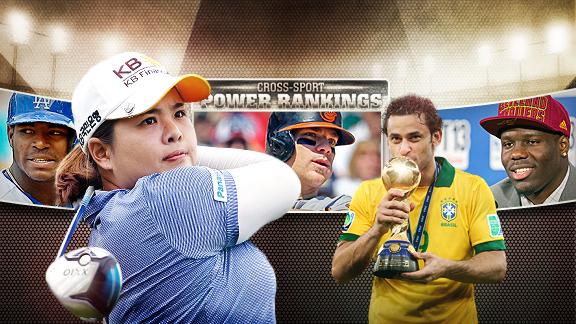 Cross-Sport Power Rankings: Inbee Park Places First
South Korea's Inbee Park is our No. 1 this week after winning the Women's U.S. Open by four strokes, capturing her third major this season. Striker Fred scored two goals in Brazil's Confederation Cup victory over Spain in the final, and is our runner-up.
Tags:
Inbee Park
,
Fred
,
Chris Davis
,
South Korea
,
Brazil
,
Orioles
Cross-Sport Power Rankings: Inbee Park Places First
Inbee Park is more than just a good golfer on a hot streak. She now is etched in history alongside legend Babe Zaharias, thanks to her four-shot win in the U.S. Women's Open at Sebonack. That makes three majors in as many tries this year for the Korean, who has two more shots at major titles this year: the Women's British Open (Aug. 1-4) and the Evian Championship (Sept. 12-15).
Next on the list is Brazil soccer standout Fred, who scored twice in his squad's stunning 3-0 defeat of Spain in the Confederations Cup final -- a win that made quite the statement one year before Brazil hosts the World Cup. And then there was Orioles first baseman Chris Davis, who kept crushing this week and now has a staggering 31 home runs. Do you agree with our Top 10? Check out our list and let your voice be heard in the comments.
2013 Cross-Sport Power Rankings panel: Sara Walsh, John Buccigross, Robert Flores, Michael Smith, Bram Weinstein, Jorge Andres, DJ Gallo, Jim Basquil, Kevin Connors, Jeff MacGregor and Steve Weissman
Last week: LeBron James No. 1 | Cross-Sport Power Rankings archive »
Cross-Sport Power Rankings: June 25-July 1
Rank
(Last week)
Player
Comment
1
(NR)
Inbee Park
Golf


Not one, not two, but three major victories for Inbee Park. After winning the U.S. Open, the world's top female golfer became only the second player in LPGA history to win the first three majors of the year, joining the legendary Babe Zaharias. Now all Park needs to do is win the British Open to complete the Grand Slam. Unfortunately, SportsNation doesn't think she'll conquer The Old Course at St. Andrews.
2
(NR)
Fred
Brazil


Scooore! Most of the 73,000 fans at Maracana Stadium in Rio de Janeiro erupted as Fred netted the fastest goal in Confederations Cup final history. The goal, the first of his two on the day, came as the Brazilian footballer was on the ground in front of the net. No doubt Fred set the tone for what would be a 3-0 win over Spain.
3
(10)
Chris Davis
Orioles


Pitchers beware when Chris Davis steps to the plate. This week alone the Orioles first baseman had four home runs and 10 RBIs (on only seven hits). Now he's just the eighth player in major leaguer in history to have 30 home runs before the end of June, and the only player to have at least 30 homers and 25 doubles in the same time frame.
4
(NR)
Yasiel Puig
Dodgers


Yasiel Puig continues to make his case as to why he should be named an All-Star. The Dodgers right fielder went 4-for-5 with a double and a triple in Sunday's 6-1 win over the Phillies. Puig now has 44 hits in his first month as a major league ballplayer. The only player to have as many hits during his first calendar month in the big leagues ... Joe DiMaggio.
5
(NR)
Anthony Bennett
Cavaliers


Is Anthony Bennett the most surprising No. 1 pick ever? That might be the case, as few pundits pegged this UNLV freshman -- a top-five pick on many mock drafts, to be fair -- to go first overall to Cleveland. However, GM Chris Grant made the Toronto native the first Canadian ever to be taken with the top pick. "I'm just as surprised as anyone else," Bennett said.
6
(NR)
Gennady Golovkin
Boxing


That's right, middleweight division. Gennady Golovkin is an undefeated champion for a reason, and proved it again with a third-round knockout of challenger Matthew Macklin on Saturday night. "It was an easy fight for me," Golovkin said. That's also five successful title defenses.
7
(NR)
Miguel Cabrera
Tigers


Chris Davis might stand between Miguel Cabrera and another Triple Crown, but that shouldn't diminish what the Detroit third baseman is doing this season: His .369 average leads the AL, as does his .456 OBP and 82 RBIs. And his five home runs last week brought him to 25 on the year -- second only to Davis.
8
(2)
Michael Cuddyer
Rockies


This 34-year-old right fielder, whose lone All-Star appearance came in 2011 as Minnesota's only rep, extended his hitting streak to 27 games -- a Colorado franchise record -- while upping his average to .344. Cuddyer also has reached base in a Rockies-best 46 straight contests.
9
(NR)
Matt Kenseth
NASCAR


Jimmie Johnson entered Sunday at Kentucky with three Sprint Cup wins on the season. Late in the race, it seemed it would become four. But Matt Kenseth had other ideas, gambling with a late fuel-only pit stop and eventually taking the checkered flag. Number of 2013 victories now for Kenseth? A series-high four.
10
(NR)
Nathan MacKinnon
Avalanche


Patrick Roy and Joe Sakic once led the Colorado Avalanche to glory. Now the two form a front-office duo in Denver, and they made McKinnon, a center, their first pick together -- and the top selection overall, beating out the likes of highly rated Seth Jones, the son of ex-NBAer Popeye Jones.
Honorable mentions: Neymar (Brazil); Novak Djokovic (tennis); Max Scherzer (Tigers); Katie Ledecky (U.S. swimming); Adam Plutko (UCLA)
The Cross-Sport Power Rankings week runs from Tuesday to Monday, covering all sporting events in that seven-day span.
SPONSORED HEADLINES
ESPN TOP HEADLINES
MOST SENT STORIES ON ESPN.COM
CROSS-SPORT POWER RANKINGS 2013