Michael Sam is power rankings No. 1
Originally Published:
January 14, 2014
ESPN SportsNation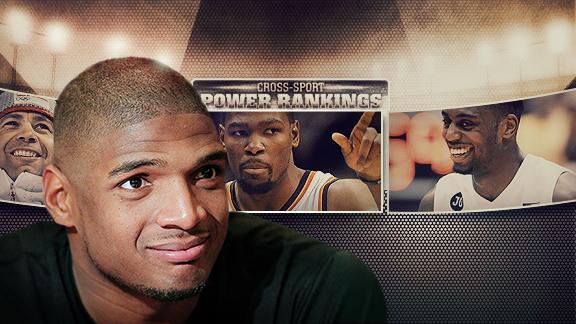 Cross-Sport Power Rankings: Michael Sam No. 1
This week's rankings include both college and pro basketball athletes, Winter Olympians and a college football All-American soon to be a pioneer in the NFL, our No. 1, Michael Sam.
Cross-Sport Power Rankings: Michael Sam No. 1
Many athletes excel at their sports. But only a precious few can look back on their career accomplishments and say they truly "changed the game."
There's no guarantee that Michael Sam will become a star in the National Football League, even though the AP named the defensive lineman the SEC's defensive player of the year. But what Sam did Sunday -- telling the world that "I am an openly, proud gay man" -- just might have changed the game for gay athletes across American sports. And that makes him No. 1 in this week's Cross-Sport Power Rankings.
Joining Sam in the top five are Kevin Durant, making his fifth straight appearance in the CSPR, biathlon gold medalist Ole Einar Bjorndalen of Norway, Iowa State's Melvin Ejim and Team USA snowboard gold medalist Sage Kotsenburg.
2014 Cross-Sport Power Rankings panel: Sara Walsh, John Buccigross, Robert Flores, Michael Smith, Jim Basquil, Kevin Connors, Jeff MacGregor and Steve Weissman
Last week: Malcolm Smith No. 1 | Cross-Sport Power Rankings archive »
Cross-Sport Power Rankings: Feb. 4-Feb. 11
Player
Comment
1. Michael Sam, Missouri

In 2013, Sam made 45 tackles, including 10.5 sacks, for a Missouri team that went 12-2, won the Cotton Bowl and matched the 2007 Tigers for the program's best record in the past 50 years. But none of that holds a candle to what the AP's SEC Defensive Player of the Year and All-American defensive lineman did on Sunday when he announced he is gay -- setting the stage to make history as the first openly gay player in the NFL.
(Last week's rank: NR)
2. K. Durant, Thunder

What more is there to say about Kevin Durant? Opposing defenses still can't stop him, as he poured in 41 points and just missed a triple-double against the overmatched Knicks. And he's lifted the Thunder to wins in 13 of their past 15 games. This is Durant's fifth straight week in the CSPR Top 10 and there's no sign that his Bo Jackson on "Tecmo Bowl"-like dominance of the NBA is ending anytime soon. (Last week's rank: 2)
3. O. Bjorndalen, Biathlon

If you think what Durant is doing these days is special, consider what 40-year-old Ole Einar Bjorndalen of Norway has accomplished over the past 26 years in the sport of biathlon, the way-harder-than-it-looks mix of cross-country skiing and rifle shooting. Bjorndalen, who had not won an individual race since 2012, missed just one target in claiming the 10-kilometer sprint at Sochi for his seventh career Olympic gold. As of this writing he's tied for the most Winter Olympic medals in history with 12.
(Last week's rank: NR)
4. Melvin Ejim, Iowa State

Ejim scored 48 points and pulled down 18 rebounds in Iowa State's win over TCU, setting the record for the most points ever scored in a Big 12 conference game. He also became the only player in the past 18 seasons with at least 45 points, 10 rebounds and a field goal percentage of 80 percent in a game, while tying for the most points scored by a Division I player in one game this season. His emergence is a major reason the Cyclones have been a top-25 team most of the season.
(Last week's rank: NR)
5. S. Kotsenburg, Snowboard

Sage Kotsenburg of Team USA claimed the first gold medal of the Sochi Winter Games in slopestyle, a snowboard discipline making its Olympic debut. Kotsenburg didn't throw any triple corkscrews in his gold-winning runs, which was taken as a sign that judges want to see more artistry from the sport's athletes. But he did unveil the "Holy Crail," which requires rotating 1620 degrees while grabbing the back of the board -- and most impressively, landing.
(Last week's rank: NR)
6. J. Anderson, Snowboard

Jamie Anderson completed a U.S. slopestyle sweep, winning the women's gold in the new Olympic event. Anderson, a four-time X Games gold medalist, was favored in the event from the moment it was added to Games. But she met the pressure head-on and claimed gold by executing a flawless second run.
(Last week's rank: NR)
7. George Hill, Pacers

Was Friday when Hill cemented his status as one of the NBA's best players? He turned in one of the best individual efforts of this NBA season (non-Kevin Durant division), scoring a career-high 37 points and barely missing a triple-double in Indiana's overtime win over the Trail Blazers. He also hit the 3-pointer that forced overtime as the Pacers picked up a measuring-stick win against one of the West's better teams.
(Last week's rank: NR)
8. Phil Kessel, Maple Leafs

One of Team USA's top offensive stars enters the Sochi Games on a high note. In his last five games with the Maple Leafs before the Olympic break, Kessel had four goals and six assists, including a goal and an assist in a win over the Canucks on Saturday. His 31 goals are second only to Alex Ovechkin this season and he's fourth in overall scoring with 65 points.
(Last week's rank: NR)
9. Blake Griffin, Clippers

Blake Griffin became the first Clippers player since 1979 to score 35 points in three straight games, including a season-high 43 against the Heat. As of Tuesday, Griffin had scored 20 points or more in 12 straight games, the second longest such streak of his career. Griffin's hot hand has helped the Clippers keep pace in the Western Conference while Chris Paul recovered from injury.
(Last week's rank: NR)
10. J. Walker, PGA Tour

Jimmy Walker's win at the AT&T Pebble Beach National Pro-Am didn't have a pretty ending, thanks to a final-round 2-over 74. But consider this: Four months ago, Walker had no PGA Tour wins in 187 tournaments. He now has three in eight starts and thanks to a $1 million lead in earnings, is in a great early position to qualify for the 2014 U.S. Ryder Cup team.
(Last week's rank: NR)
Honorable mention: Lionel Messi, Barcelona; Cheyenne Woods, LPGA; Julia Mancuso, skiing
The Cross-Sport Power Rankings week runs from Tuesday to Monday, covering all sporting events in that seven-day span.
SPONSORED HEADLINES
ESPN TOP HEADLINES
MOST SENT STORIES ON ESPN.COM