Rafa Nadal favors transparency
Updated:
June 8, 2013, 11:34 AM ET
Associated Press
PARIS -- Rafael Nadal favors more transparency in tennis drug testing even though he says the sport is clean.
More from ESPN.com

Hard to imagine, but Rafael Nadal looked quite mortal in his first-round French Open match, writes Greg Garber. Story
---

Not much on the line for Novak Djokovic in Paris -- except the all-time great status he'd earn with a title, writes Kamakshi Tandon. Story
• Notebook: Monfils pulls off stunner
Speaking after a first-round victory Monday at the French Open, Nadal bristled when asked about the frequency of testing. He favors revealing who is being tested and how often. He says if such procedures were in place, such questions about drug testing would not have to be asked.
All top players are subject to testing without warning. Nadal says the results reflect well on the tour.
Nadal, a former member of the ATP Player Council, says tennis is a "very clean sport." He adds: "We don't have a lot of cases of doping."

Copyright 2013 by The Associated Press
SPONSORED HEADLINES
MORE TENNIS HEADLINES
MOST SENT STORIES ON ESPN.COM
French Open 2013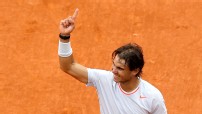 With Rafael Nadal's eighth French Open title, he's now set a new standard. Greg Garber »
VIDEO