Commentary
When words turn out to be winners
There were times when the off-court chatter was better than the matches
As usual, the players didn't just let their rackets do the talking this year. Here are the 20 wittiest, more memorable verbal volleys from this season.
1. "You can't buy ATP points. It's not possible, otherwise Gulbis would be No. 1 in the world."
-- Tommy Haas, referring to Ernests Gulbis' family fortune
[+] Enlarge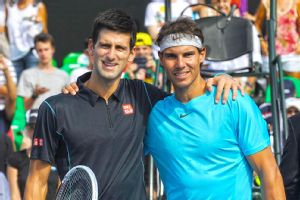 Jorge Blanco/LatinContent/Getty ImagesNovak Djokovic and Rafael Nadal saw each other quite a bit in 2013.
2. "I see him more often than my mom, actually."
--
Novak Djokovic
, beating
Rafael Nadal
in the Tour Finals before the two played an exhibition series in the offseason
3. "He was practicing with his shirt off."
-- Victoria Azarenka, on how Nadal won her support for the US Open final
4. "I should stay on the court and dance?"
-- Agnieszka Radwanska, on why she barely shook Sabine Lisicki's hand and left the court after her semifinal defeat at Wimbledon
5. "It feels slightly different to last year."
-- Andy Murray's first words to the crowd after winning Wimbledon, a year after tearfully saying ''I'm getting closer'' following his loss to Roger Federer in the final
6. "There are some guys, I'm sorry, with respect -- they can't play tennis. I don't know how they got into the top 100."
-- Ernests Gulbis, on his drive to get back to the top 100
7. "I respect Roger, Rafa, Novak and Murray but, for me, all four of them are boring players. Their interviews are boring."
-- Gulbis, on interviews in tennis not being confrontational enough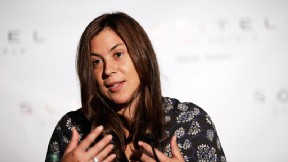 AP Photo/Kathy WillensAfter winning Wimbledon, Marion Bartoli made it clear she didn't want to be a model.
8. "Have I dreamed of having a model contract? No, I'm sorry. Have I dreamed of winning Wimbledon? Absolutely, yes."
--
Marion Bartoli
, reacting to a BBC commentator suggesting she was not a "looker"
9. "Hypothetically, yes. Technically, no."
-- Milos Raonic, on whether his opponent should have won a point after Raonic touched the net but was not called for it by the umpire
10. "If he gets there."
-- Bernard Tomic, after Federer advised Tomic not to look ahead to a possible meeting in the third round of the Australian Open
11. "I think some players were happy when Nadal lost. I think Roger was very happy. I think he got ahead of himself. Then things turned around."
-- Tomic, still not letting it go, at Wimbledon
12. "No, I have extra gluten."
-- Roger Federer, on whether he is part of the non-gluten diet craze on tour
13. "She's not said one word to me, not spoken to me, not said hi, not looked my way, not been in the same room with me since I played her in Australia."
-- Sloane Stephens, on Serena Williams after winning their quarterfinal meeting at the Australian Open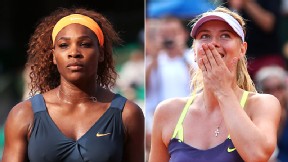 Getty ImagesNot too many nice things were said between Serena Williams and Maria Sharapova.
14. "If she wants to talk about something personal, maybe she should talk about her relationship and her boyfriend that was married and is getting a divorce and has kids."
--
Maria Sharapova
, reacting to Williams' critical comments about an unnamed player, apparently Sharapova, which were quoted in a magazine feature
15. "It's not as lonely as it looks at the top."
-- Serena Williams, on having competition for the top spot
16. "Who cares?"
-- Jelena Jankovic after beating No. 2 Azarenka, on her poor record against top 4 players
17. "They call me a tower, not like a building."
-- Juan Martin del Potro, the "Tower of Tandil," after being told he had fallen on court like a collapsed building
18. "You play the guy, and then you play his legend."
-- Sergiy Stakhovsky, clarifying post-match comments about playing Federer and his "ego" after winning their second-round match at Wimbledon
19. "Some people, the player's mother is younger than me."
-- Kimiko Date-Krumm, 43, on the age gap between her and the rest of the tour
20. "I don't have to play. I just stand there. I say, 'I'm from China.'"
-- Li Na, on how she fares against other players at table tennis
SPONSORED HEADLINES
MORE TENNIS HEADLINES
MOST SENT STORIES ON ESPN.COM
EDITORS' PICKS
Caroline Wozniacki sails after split with Rory.
Tandon »

Here's what celebrity coaches and players would give each other for the holidays.
Bodo »

Martina Navratilova just part of coaching carousel.
Bodo »